More About Dawn A. Tobin, Experiential Program Facilitator
"There is no passion to be found playing small - in settling for a life that is less than the one you are capable of living." - Nelson Mandela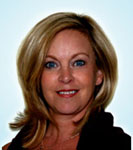 Throughout my adult life I've been an avid reader of topics related to our spiritual, physical, and non-physical reality. In 1995, while book shopping, one in particular seemed to captivate my attention. It was titled, "Journeys Out of the Body", by Robert A. Monroe (a leading figure throughout the 40's and 50's radio broadcasting industry.) I was quickly enthralled by the nature of Bob's personal experiences, his credibility, and his deep commitment to maintaining a scientific standard of integrity as he endeavored to understand this spontaneous non-ordinary state of being. As I turned to the final pages, I desperately longed for more. Hoping the adventure might continue past the end, I began to leaf through the book again and found my eyes fixated on the last page of the foreword, my mouth hung open. There at the bottom of the page in a note to those who may be interested was the address of The Monroe Institute, a residential campus with programs designed to allow others to explore the vast expanse of their own consciousness in Bob's pioneering footsteps! Almost before I knew it, I found myself attending my first program. This firsthand experience was a huge revelation. Finally, there was validation of an internal spiritual landscape free from the boundaries and limitations conceived by society, guided by internal knowing and direct firsthand experience. For me this was the catalyst to real awakening, empowerment, answers to life-long questions, the release of self-limiting behaviors and fears, and the beginning of true freedom.
It's quite an honor to represent the Monroe Institute as an Outreach Facilitator. It's the fulfillment of a long held desire to be of service to humanity through the continued growth of this internationally acclaimed leader in consciousness exploration.
Dawn's background includes the study of Quantum Physics, Sacred Geometry, Spirituality, Comparative Religion, Mysticism, The Paranormal, Ancient Wisdom, The Cosmos, Human Relations, and other topics beneficial to acquiring a very balanced understanding of our physical and non-physical systems. Dawn holds a professional degree in Paralegalism; and is the program developer and facilitator for other non-accredited Hemi-Sync® based consciousness development programs. Dawn has been a student of The Rosicrucian Order since 1994. She is a standing Member of The Institute of Noetic Science, The Monroe Institute, TMI's Professional Division, a graduate of multiple residential and off campus TMI Programs, and is a certified Reconnective Healing Practitioner.
Contact Dawn at:lightworkerdawn@humiluminous.com